Post by Rigil Kent on Mar 28, 2005 16:46:31 GMT -6
Akhilleus Joannou (AJ) Trent (born Triantis);
NG Human (Narsil) male; 33yrs;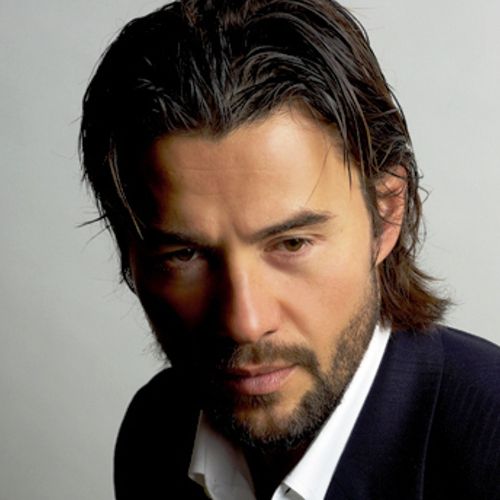 With presumed campaign setting as "Spinward Marches," have started revising AJ's background.


Born on Narsil, in Sword Worlds, 33 (?, may be 29 or 30 if we roll the timeline back slightly.) years ago. Narsil is ruled by a conglomerate of major business interests, among which is OSL Shipping (heading by Joannou Ioannisson Triantis (AJ's dad.)
To reflect Sword World naming conventions, AJ would have grown up as Akhilleus Joannouson Triantis. (Personal Name, Father's Name and Son, Family name)
At 18, he joined the Narsil Fleet (Sword Worlds navy). He would rise to the rank of Kapitensleutnant (Lieutenant) and would be assigned to the Tanngrisnir, a Terrible-class light cruiser.
Four years later, the Sophie, a free trader commanded by Luc Marceau, entered the [Tyndareus?] system; the dead system served as a halfway point for many smaller ships so it was no surprise that a free trader would venture there. While recharging their jump drives, they detected a TFR distress beacon and investigated, discovering an escape pod adrift in space with only the unconscious Kapitensleutnant aboard. The Sophie's medical officer examined the officer and was unable to determine any physical problems with him. When revived, A.J. suffered from a 4-day gap in his memory and was unable to explain his circumstances.
The Sophie dropped him off at the next Sword Worlds system. AJ was immediately charged with numerous counts ranging from dereliction of duty to treason and spent the next year in a military prison awaiting trial. Of the Tanngrisnir, there was never another sign.
The trial was a short affair and, had it not been for the presence of diplomatic observers from the Imperium, A.J. would probably been found guilty on all charges and executed. As it was, he was acquitted on all counts except the dereliction of duty charge; despite his protests of innocence and requests for deeper inquiries, the twenty-three year old was expelled from the Narsil Fleet and branded a traitor for something he did not do.
It was during this time that the mysterious man named "Grimm" became his patron; Trent suspects that it was due to Grimm's actions that he (A.J.) wasn't executed.
He drifted for over two years, doing whatever jobs he could find that would keep him drunk. His travels eventually brought him to the Imperium where he enjoyed no small amount of anonymity. Three years after the Tanngrisnir incident, he was recruited by Juliet Marceau, the daughter of the now-retired Luc Marceau; though she had a reputation as a hard-ass (rightfully so), she was secretly a softie on the inside and felt sorry for Sword Worlds expatriate. Under her (sometimes brutal) guidance, Trent clawed his way out of the bottle and managed to get himself back together; as a result, he does not touch alcohol at all.

A year passed aboard the Sophie and, not unexpectedly, Trent and Marceau became romantically involved. It was a tempestuous relationship from the beginning as both were very stubborn and hard-headed; though Julie Marceau could be a loving woman, she could also be as hard as nails when necessary, sometimes, in Trent's opinion, too hard. Over a year after their relationship began, Marceau shot Trent in the shoulder during one such fits of anger; the wound was not serious (though Trent kept the bullet as a souvenir once it was extracted) and she was instantly sorry. On the spur of the moment, Trent proposed while the bullet was still being extracted, she accepted and they were married within the hour.
On the eve of their third-year anniversary, Marceau and Trent walked away from one another; it could have been called an amicable split but the coldness that continues to exist between the two indicates that to call it that would be a lie. Neither of them have admitted why they split and there was no indication of marital problems before they divorced.
(At some point in this, he might have met and befriended Bella Venice.)
That was then.
Current stats:
A.J. Trent (204 points)
Age 33; Human (Alpha Upgrade); 1.8m; 85kg

ST 11 [10]; DX 12 [20]; IQ 13 [60]; HT 11 [0].
Damage 1d-1/1d+1; BL 24 lbs.; HP 14 [6]; Will 13 [0]; Per 13 [0]; FP 12 [3].
Basic Speed 6 [5]; Basic Move 6 [0]; Block 7 (DX); Dodge 9; Parry 9 (DX).

Social Background
TL: 10 [0].
CF: Imperium [1]; Sword Worlds (Native) [0].
Languages: Galanglic (Native) [6]; Narsil (Sword Worlds dialect of Icelandic) (Native) [0]; Vilani (Accented) [4].

Advantages
3D Spatial Sense [10]; Ally (Bella Venice, his "special friend") (75% of starting points) (9 or less) [3]; Born Spacer 2 [10]; Eidetic Memory [5]; Fit [5]; Hot Pilot 2 [10]; Intuitive Mathematician [5]; Patrons (Grimm) (6 or less; Minimal Intervention) [5]; Resistant (Acceleration) (Rare) (+8) [2].
Perks: Classic Features (Tall, dark and ...); Improvised Weapons (Karate); Style Familiarity (Freefighting); Style Familiarity (Military Hand-to-Hand - Krav Maga); Suit Familiarity (Vacc Suit); Vehicle Bond (Bad Omen) [6].

Disadvantages
Amnesia (Selective - 4 day period regarding the loss of Tanngrisnir) [-5]; Chronic Pain (From injuries sustained while being interrogated by Sword Worlders regarding disappearance of Tanngrisnir) (Mild) (9 or less; 2 hours) [-5]; Code of Honor (Officer's) [-10]; Curious (6 or less) [-10]; Dependent (Bella Venice, his "special friend") (No more than 75%) (9 or less; Friend; Loved one) [-4]; Intolerance (Sword Worlders) (One group) [-5]; Nightmares (12 or less) [-5]; Reputation (Coward and Traitor responsible for loss of the Tanngrisnir) -4 (All the time; Small class) [-6]; Sense of Duty (His Crew (Current and Former)) (Small Group) [-5]; Truthfulness (12 or less) [-5]; Unluckiness [-10]; Wealth (Struggling) [-10].
Quirks: Always wears long sleeves (to conceal the scarring from his imprisonment by Sword World Confederation Patrol); Does NOT talk about the nature of his relationship with Bella Venice; Minor Obsession: What happened to the Tanngrisnir; Preferred Looks: Crazy for athletic brunettes; Recovering alcoholic so he does not drink anything but water now [-5].

Skills
Administration-12 (IQ-1) [1]; Aerobatics-14 (DX+2) [1]; Area Knowledge (Spinward Marches)-14 (IQ+1) [2]; Armoury/TL10 (Small Arms)-12 (IQ-1) [1]; Beam Weapons/TL10 (Pistol)-13 (DX+1) [2]; Beam Weapons/TL10 (Projector)-13 (DX+1) [2]; Body Language (Human)-12 (Per-1) [1]; Brawling-13 (DX+1) [2]; Computer Operation/TL10-14 (IQ+1) [2]; Connoisseur (Music)-12 (IQ-1) [1]; Detect Lies-11 (Per-2) [1]; Diplomacy-11 (IQ-2) [1]; Electronics Operation/TL10 (Communications)-12 (IQ-1) [1]; Electronics Operation/TL10 (Sensors)-13 (IQ+0) [2]; Expert Skill (Spacer Lore)-12 (IQ-1) [2]; Fast-Draw (Pistol)-12 (DX+0) [1]; First Aid/TL10 (Human)-13 (IQ+0) [1]; Free Fall-16 (DX+4) [2]; Freight Handling/TL10-12 (IQ-1) [1]; Gunner/TL10 (Beams)-14 (DX+2) [1]; Guns/TL10 (Pistol)-13 (DX+1) [2]; Guns/TL10 (Shotgun)-13 (DX+1) [2]; Judo-12 (DX+0) [4]; Karate-12 (DX+0) [4]; Knife-12 (DX+0) [1]; Leadership-12 (IQ-1) [1]; Mathematics/TL10 (Applied)-11 (IQ-2) [1]; Mechanic/TL10 (Starships)-12 (IQ-1) [1]; Merchant-12 (IQ-1) [1]; Musical Composition-11 (IQ-2) [1]; Musical Instrument (Violin)-12 (IQ-1) [2]; Navigation/TL10 (Hyperspace)-16 (IQ+3) [4]; Navigation/TL10 (Space)-19 (IQ+6) [2]; Observation-12 (Per-1) [1]; Piloting/TL10 (Aerospace)-16 (DX+4) [1]; Piloting/TL10 (Contragravity)-14 (DX+2) [1]; Piloting/TL10 (High-Performance Spacecraft)-19 (DX+7) [4]; Savoir-Faire (Military)-13 (IQ+0) [1]; Shiphandling/TL10 (Starship)-12 (IQ-1) [2]; Spacer/TL10-15 (IQ+2) [1]; Streetwise-12 (IQ-1) [1]; Tactics (Space)-13 (IQ+0) [4]; Vacc Suit/TL10-14 (DX+2) [2]; Wrestling-12 (DX+0) [2].
Techniques: Arm Lock (Judo)-12 [0]; Arm Lock (Wrestling)-12 [0]; Breakfall (Wrestling)-12 [0]; Choke Hold (Wrestling)-9 [0]; Disarming (Wrestling)-12 [0]; Elbow Strike (Karate)-10 [0]; Eye-Rake (Karate)-7 [0]; Ground Fighting (Karate)-8 [0]; Head Lock (Wrestling)-9 [0]; Knee Strike (Brawling)-12 [0]; Knee Strike (Karate)-11 [0]; Stamp Kick (Karate)-9 [0].