Post by Gigermann on Jul 9, 2012 10:14:25 GMT -6
Valsûl,
TN Male Half-Drow, Rog 3/Nin 2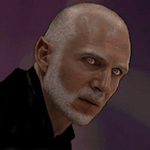 Character Sheet
I am born. My father discovers me in a basket on his doorstep, nine moons after his return from the deep mines, where he had loved the strange, black-skinned she-elf who bore me. He welcomes me, as glad news.
I am outside, watching the moon. I am seven years old. There is a man watching me; I do not know him. The man points. The shadows reach for me, and I call out for my father, but he cannot hear my cries. Bound in darkness, I am carried on the night wind.
I kneel before the Mistress. I am crying. The chains rub against the scars on my skin. The Mistress tells me of my father's betrayal. She tells me that the pain will stop when I learn to end a life. She lashes me with the whips again, and I scream.
I am in the monastery courtyard, before my brother, my friend. I am twelve years old. My brothers and sisters surround us in a wide circle. The Mistress does not raise her voice. She has given me his Name, and him, mine. I am sorry for my brother, my friend, but the Name is given; I must end his life.
I am in the city below the mountain. I am fifteen years old. My hands shake. My Name orders me to bring him his dinner. I watch him eat, and drink. I watch him collapse, convulsing, foaming at his mouth. I watch the life fade from his eyes. I quickly pour out the rest of the wine into the fire, and call for the guard.
I kneel beside the bed, by the man, as his life ends. I am eighteen years old. I barely remember this man, who has said that he is my father. He said he loved me, and that I was taken from him by force, by a slaver. He said he has nothing to give me but the truth, a Name: Gaedren. I do not cry; Mistress says we must never cry. But does the Mistress lie?
I stand before the Mistress. I am twenty years old. The bracers of my Order feel tight against my forearms, like armor. My brothers and sisters rejoice for me. The Mistress says I am ready. She gives me the Name: Gaedren Lamm. I thank the Mistress for her trust; I wear a smile like a mask, to hide my troubled thoughts, as I wonder if she knows I already have accepted this Name, for my father's sake?